International SEA for Edmund Optics
Edmund Optics is a leading international manufacturer of high-precision optics and optical components from the USA. Its products are distributed to a global B2B sales network. Its customers include companies from the life sciences, semiconductor and industrial sectors in addition to research and development institutions working with optical components such as lenses, prisms, filters, coatings, lighting systems, optomechanics and products for laser applications. MONDIS supported Edmund Optics with a local SEA strategy for the European market and the corresponding localization of campaigns. The focus was on tailoring all Edmund Optics advertising messages for the individual target markets using local expertise, thereby ensuring the efficient rollout of these messages in Europe.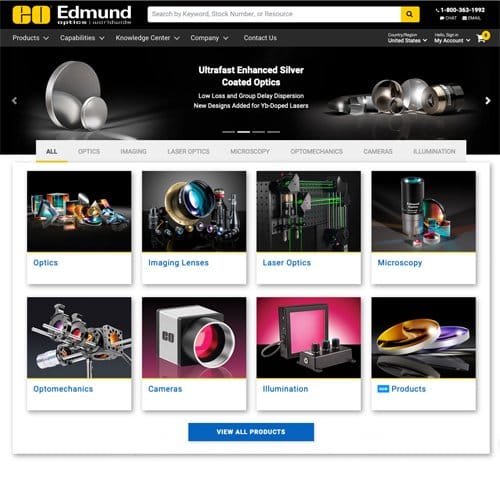 Our task: international SEA in seven European countries
Previously, Edmund Optics had used Google Ad campaigns to great effect in the US market in order to sell its more than 34,000 niche optical products to B2B target groups. Following this proven approach to online marketing, the optics specialist's online shops in Europe were to receive a similar measurable boost. This would involve developing an SEA strategy for key European target markets on the basis of the US master campaigns. In total, locally adapted Google Ads campaigns were to be rolled out in seven European countries: Germany, Spain, France, Italy, Poland, Russia and Turkey.
Our solution: Google Ads campaigns adapted by local specialists
As a globally operating optics specialist with expert clientele, Edmund Optics required well-designed campaign messages that were tailored precisely to each target market. Using the keywords of the US-focused master SEA strategy as a starting point, MONDIS researched local SEA potential and optimal keyword translations for each of the European target markets. Based on the results of this research, the US campaigns were translated and adapted for each of the seven European countries by native-speaking Google Ads specialists from the target markets in question.
The result: maximization of SEA potential in each target country
As such, when transferring the US master strategy to the European markets, MONDIS adhered to the strategic SEA principles but optimized the campaigns with local adaptations for each target market. Measurable results followed soon after, with an increase in generated leads across all target markets. An efficient campaign design contributed significantly to optimizing the cost-per-click rate.